The smiles that say it all… Frensham Trout Fishery and We Fly Fish planned and delivered a fly fishing experience session for 1st Churt Scout group. Fly fishing, a nature walk through ancient woodland and a BBQ is a great way to spend a summer evening. Formal session design and briefing for the volunteers ensured a focus on safety, enjoyment and skills acquisition. Hopefully some will be inspired to get their Scout Angling badge. More on that below.

It wasn't just the Scouts who were learning. Two of the volunteers who delivered the coaching were training for their Angling Trust Level 1 ASC coaching qualifications. This experience certainly helped them pass their professional assessments.

Carol Ireland, Scout Leader at 1st Churt Scout group commented in her Google 5* review that we

'…helped our Scout group to enjoy their first experience of fly fishing. Top marks for instruction, safety and enjoyment. Lots of trout were caught and the Scouts are now hooked!'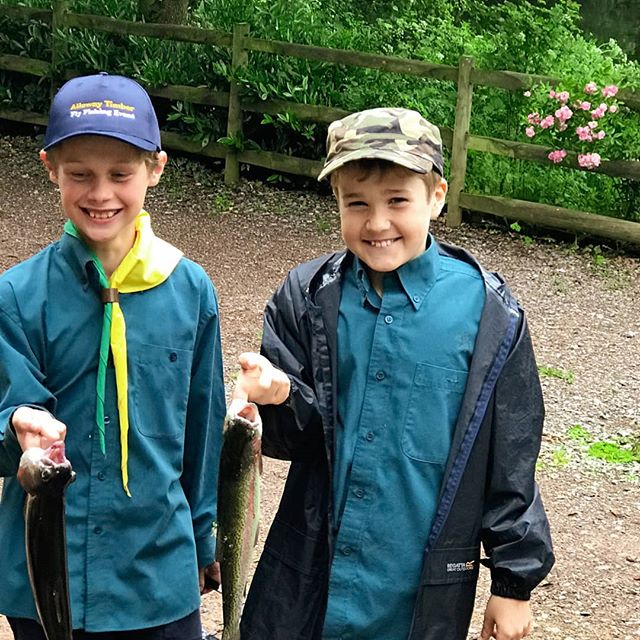 We often hear it said that younger anglers are more interested in onscreen activity than fishing. Our experience shows this just isn't true.

As with any coaching session we adapt our approach based on the needs of the participant. For junior anglers this often means using shorter lighter rods, and keeping coach to participant ratios low. Breaks are built into the session plan for drinks and snacks. Care is taken to ensure that clothing and shelter is available to suit the weather conditions. For under 12 year olds we recommend one angler per coach. For 13 – 18 year olds a maximum of two anglers per coach, with a parent present throughout the session. All We Fly Fish professionals are insured, enhanced DBS checked. All are registered with the governing body for the sport in England, the Angling Trust.

CAST skills awards
CAST skills awards have been developed by the Angling Trust to support, reward and recognise the standards of all anglers across England. They are written as a series of progressive steps to go from CAST starter level to CAST level 6. They enable anglers in all disciplines to develop at their own pace but with recognition of their efforts at each stage. Participants are coached to learn specific skills at each level, and receive a certificate on completion. CAST awards are recognised by other bodies such as the Duke of Edinburgh's Award (the world's leading youth achievement award) and the Scouts (CAST Level Two award automatically qualifies for the Angler Activity badge).

Fly fishing is a sport that teaches youngsters about nature and the environment, mastering technical skills and important life skills such as patience and concentration. Parents like to see their kids taking up the sport and enjoying the benefits it brings.

'My 7 year old son has had a series of fly fishing lessons with We Fly Fish Ltd. He was enthusiastic to start with and now he is completely hooked! We Fly Fish have really gone the extra mile, finding an accredited course for him to complete as a junior angler. This has given him a huge sense of achievement and confidence (all at their own initiative – not suggested by us). The coach is so patient, gentle and kind – it's clear he has a real love and passion for fishing and wants to share his enjoyment of it with his young protege! All the right kit has been included in the price – perfect for the beginner and there is a real focus on putting the client at the centre of the experience. It has given our son a love of fishing that I suspect will last a lifetime.'

Ursula Errington (Hampshire)
So what do the junior anglers say ? Watch this clip of James and you will see….