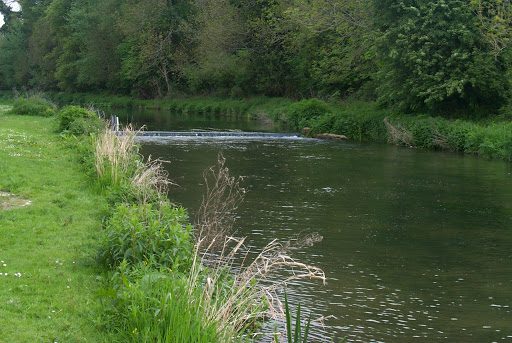 Why are chalk streams so special for fly fishing?
Chalk streams are where the modern sport of fly fishing developed and are steeped in history. Fly fishers from all over the world come on a pilgrimage to experience the fabulous water meadow environments of Wessex. We Fly Fish offer guided days in these globally unique, pristine environments.
Chalk streams are important habitats for wildlife and support a huge range of plants and animals. They are home to some of our most threatened species and have a fascinating history supporting many thriving industries from the past. Our chalk stream guided days take you to some very special places.
Chalk is highly porous and permeable so rain percolates directly through to the chalk bedrock which holds water as an underground reservoir before the clear filtered water re-emerges lower down the slope from chalk springs. This water (typically 'gin clear') supports a diverse insect population, including over twenty Mayfly and nearly forty Caddis species. This is a paradise for fly fishing particularly the dry fly. Flowing from underground aquifers gives the spring water a consistent temperature of around 10 °C.
On cold winter mornings chalk streams are often shrouded in mist, creating a beautiful contrast to the frosty banks. We offer guided days almost all year round, switching from trout as the target fly fishing species in the summer to grayling and pike in the winter months.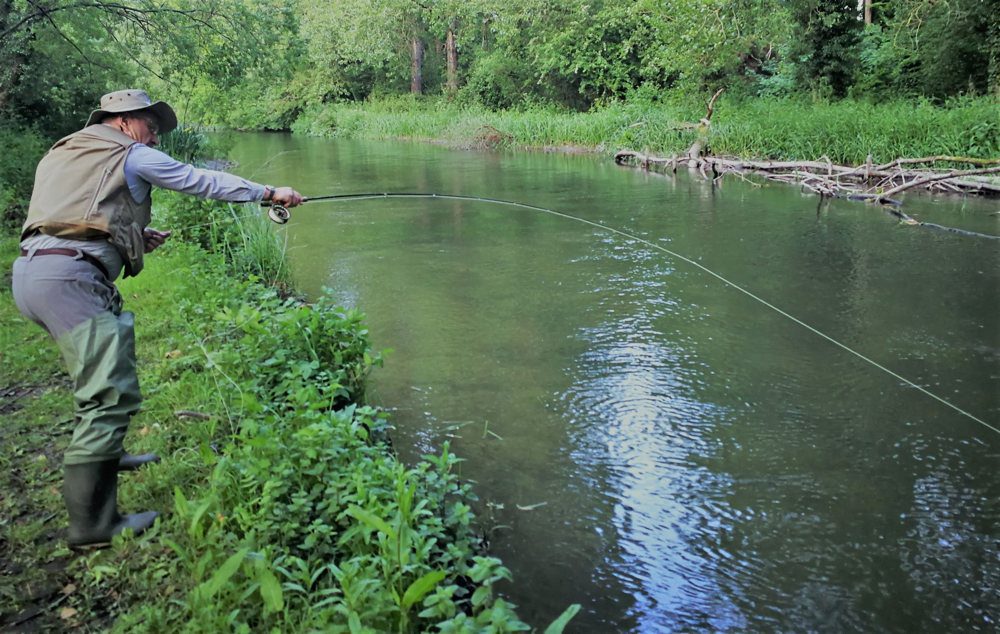 Chalk Stream - the perfect fly fishing environment?
Chalk streams are a globally rare ecosystem, confined to northwest Europe and to the UK in particular. In fact, more than 85% of all the chalk streams in the world, are found in England. Formed 100 million years ago, the chalk escarpment is the largest geological structure in the country. In the south, the chalk centres on Salisbury Plain, radiating out in ridges: the Dorset Downs, North Downs, South Downs. Our chalk stream fishing is here, in the counties of Wiltshire, Hampshire and Berkshire.
Much of the best fishing is controlled by syndicates and private clubs making access to the general public difficult. We Fly Fish Pros have access to some of the best chalk stream water throughout the season.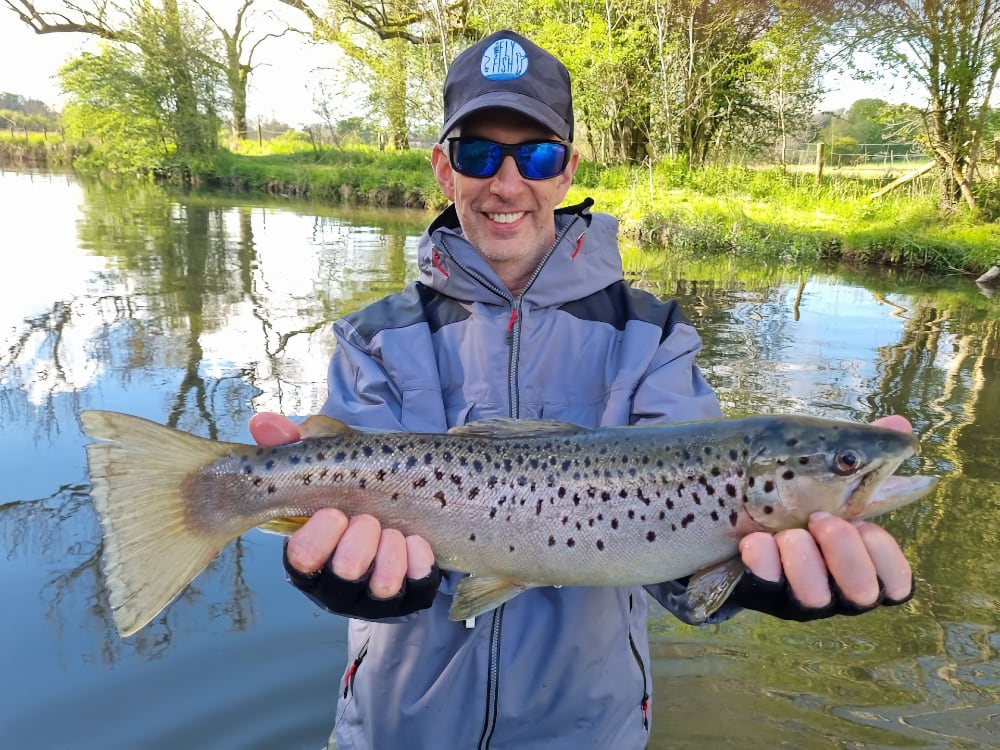 Our Fly Fishing Locations in Hampshire, Berkshire & Wiltshire
Our fly fishing locations in Hampshire, Berkshire and Wiltshire are steeped in history and have been the setting for many of England's iconic cultural works. John Constable famously portrayed a chalk stream water meadow in front of Salisbury cathedral in an important painting started in 1830 Salisbury Cathedral from the Meadows, which Constable began painting in 1830. Kenneth Grahame's Wind in the Willows was set on a chalk stream. Poet Sir John Betjeman wrote of the Kennet: "When trout waved lazy in the clear chalk streams, Glory was in me …"
Our river beats in Hampshire, Berkshire and Wiltshire are amongst the locations where fly fishing to catch trout was developed as a sport in the 1800s. As well as the historical interest they provide these ecosystems are 'England's Rainforests' home to rare species including the southern damselfly, one of Europe's most endangered insects, otters, kingfishers, the white-clawed crayfish and plants like the river-water crowfoot.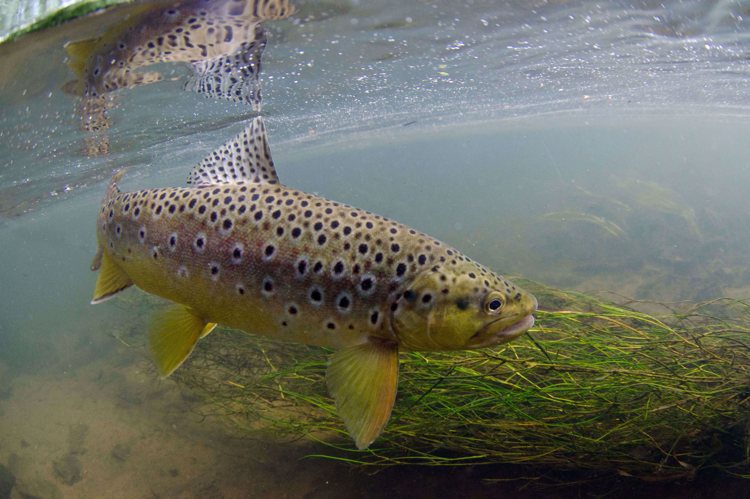 Chalk Stream Trout, Grayling and Pike
Our target fish are chalk stream trout (Salmo trutta) and chalk stream grayling (Thymallus thymallus). Both are native European members of the Salmon family. In the winter we also target pike (Esox Lucius), the ferocious top predator of the river.
Chalk stream trout are typically in season from April/May to September/October and are fished for using upstream fly tactics. Rules and exact season dates vary from water to water. Some stretches allow the use of nymphs in the summer, others do not.
Mayfly season (which includes the famous 'Duffer's fortnight') is the highlight of the year when we see good hatches of Ephemeroptera. This is when the largest trout which mainly feed on small fish are caught on the dry fly. Book well in advance for Mayfly, clients start booking a year ahead.
Fly choice depends on the time of year and what is happening on the water from hour to hour. You may experience a brief and intense 'hatch' of insects, your Pro will switch to an appropriate pattern and presentation technique to take advantage of it.
We imitate nymph, emerger and adult lifestages of all the major chalkstream insects such as caddis, olives and mayfly. Shrimps (Gammarus) are important all year round. In the summer winged and wingless terrestrials fall into the river and form an important food item for the trout, often triggering a feeding frenzy if there is a good fall of hawthorn, ants or crane fly.
For winter chalk stream grayling fishing we use dry flies or nymphs which can be weighted or unweighted depending on where the fish are feeding. Strike indicators are used to set the depth of the nymph.We Fly Fish Pros can show you how to use the latest suspension indicator (e.g. the Dorsey) and constant contact 'Euro' nymphing techniques.
Our chalk stream locations range from upper river sections where wading is allowed to wider lower river sections which are fished from the bank. Some of our river locations are ideal for a small group to have exclusive use of a beat; others are fished one to one with a We Fly Fish Pro.
Contact us to discuss your requirements and we can recommend a location that is ideal for you.
Let's Get You To The Water